Painting and Repair of the Khizana Medical Centre
Painting and Repair of the Khizana Medical Centre
Khizana is a rural village in the Rif Mountains with some 6,000 inhabitants scattered across the mountainside whose primary source of food and income is from basic agriculture.
Although you'd hardly notice, it's a place of great historical significance including being the town where "Tariq" lived before crossing the Straits to conquer Europe (Gibraltar is named after him as its original name was "Jebel-Tariq") and being the location of the first library in Northern Africa.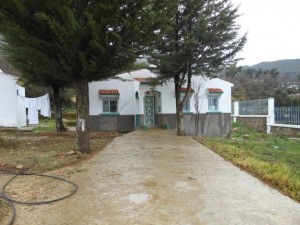 It's also the site of one of the very few rural health centres in the Rif, which is a truly precious resource because most mountain people live far away from any kind of doctor or hospital and therefore typically can't get medical support, sometimes with disastrous results.
The centre is well supported by the local people, but with minimal wealth for maintenance it's been leaking for years, which in turn, has produced mouldy and unhealthy conditions inside both the surgery and small doctor's accommodation buildings.
RifCom therefore funded the acquisition of specialist materials to seal and re-paint the buildings' cracked walls that were such a large part of the problem.
A small RifCom team started the project and then the local people joined in to do the lion's share of the work, completing the job to an excellent standard.
Both buildings are now in a far better state to withstand the winter rains and the surgery itself is holding up well.
Recent storms have shown a weakness in a corner of the roof of the accommodation block and so we'll need to return soon to help keep this valuable resource in good working order. . .